Accommodation waste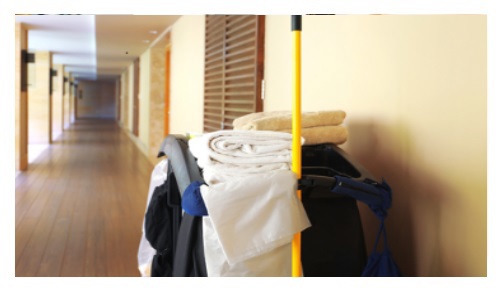 This guidance is for staff who operate student halls of residence, residential schools, flats or other accommodation for those attending educational courses.
What you must do
The waste generated by accommodation that is owned or run by an educational establishment is considered to be commercial waste. If you produce commercial waste you must have a waste contract with your local council or waste contractor to ensure that your waste is legally disposed of.
Duty of care - your waste responsibilities
Most waste from accommodation is similar to domestic waste. However your waste could also contain items which are classed as hazardous/special waste. Examples of hazardous/special waste include:
fluorescent tubes
appliances such as fridges
some waste electrical and electronic equipment (WEEE), eg monitors
used chemicals, eg from cleaning or repairs.
You must deal with this waste as hazardous/special waste.
Items such as fluorescent tubes and other waste electrical and electronic equipment (WEEE) may be covered by a take back scheme operated by your supplier. Your contract with your supplier should contain details of these schemes.
Waste electrical and electronic equipment (WEEE)
Businesses in Scotland are required to segregate key recyclable materials for collection. You should speak to your waste collector to make sure your waste is being recycled.
Good practice
Find out if waste contractors in your area provide collections for separated wastes. Many contractors will collect separate materials including:
paper
steel and aluminium cans
plastic drinks bottles
packaging glass
cardboard
textiles.
Contractors often charge less for collecting separated materials than they do for collecting mixed waste.
Provide recycling facilities which make separation of waste easy. It should be as easy to put materials in separate recycling containers as it is to place them in a mixed waste bin.
Make sure that there is clear and accurate guidance available on how to use your recycling systems and never assume that it is obvious to the user.
Check that your waste is being properly separated. Contamination of separated materials can result in a whole load being consigned to landfill.
SEE ALSO: Reduce, reuse and recycle your business waste, Education sector guidance, Hospitality, leisure and tourism guidance