Balers, compactors, crumbers, granulators and shredders for waste
What you must do
De-pollution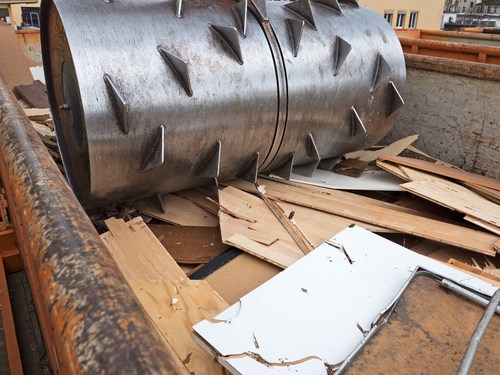 Many items must be treated to remove hazardous elements (de-polluted) before baling, compaction, crumbing, granulation or shredding.
You may require a pollution prevention and control permit if you de-pollute materials yourself.
Examples of items that you must de-pollute include:
fluorescent light tubes
cathode ray tubes
items that contain ozone depleting substances, eg fridges
wood contaminated with paint, creosote, glues or varnishes
containers used for hazardous/special waste, eg engine oil or pesticide containers.
You must also de-pollute end-of-life vehicles and waste electrical and electronic equipment (WEEE) to specific standards. Most materials requiring de-pollution are also classified as hazardous/special waste.
You must not recycle any of these materials before they have been de-polluted. This could cause significant pollution on your site. For example, an incorrectly compacted fluorescent tube could spread mercury throughout your site, creating a major pollution risk.
You could be prosecuted if your recycling processes or materials cause land, water or air pollution.
You must also hold a waste management licence or register an exemption to carry out any de-pollution, baling, compaction, crumbing, granulation or shredding. You must also meet your requirements under the Duty of Care.
Examples of materials which generally do not require de-pollution prior to processing include packaging waste such as aluminium or steel cans, plastic bottles and cardboard.
General operations
Operate your equipment under cover using designated, signed processing areas located on hard, waterproof surfaces. Signing processing areas will help minimise contamination. Store materials separately in labelled cages. These steps will help minimise pollution, if for example there are fuel, oil or coolant spills or if bales break.
Liquids and spills
Install systems to collect liquid run-off produced in your operations. For example, your operations could contaminate water with cleaning detergents or oil. Discharge the run-off to your foul drainage system using an interceptor or alternative treatment system.
Use drip trays to collect any potential spills when you change oil or coolants. Treat oils or coolants as hazardous/special waste. If you operate a small waste oil burner in Northern Ireland you must have a Part A Pollution Prevention Control (PPC) permit from the Northern Ireland Environment Agency.
Store all chemicals in an area where spills can be contained. This should be within a secondary containment system (SCS), such as a bund. The SCS should be able to contain at least 110% of the volume of the largest tank or 25% of the total volume likely to be stored, whichever is greater.
Dust and noise
Baling, compacting, granulating, shredding and crumbing create fine particles of dust, and can spread small pieces of materials, such as plastic or cardboard around your processing areas.
You must not allow these materials to cause pollution. For example, you must not allow fine plastics dust to enter a surface drain. Install mesh screens and flaps on the input and output areas and hoppers on your equipment. These prevent materials escaping from your equipment and causing pollution.
Fumes may be generated by granulators or crumbers. Install exhaust ventilation systems.
Granulators and recycling equipment create high volumes of noise, sometimes in excess of 100dB. You must prevent noise creating a nuisance.
Good practice
Sweep down your processing areas daily, and wash them down weekly, to minimise build up of dirt, processed materials and dust. This reduces contamination of your materials, increases the efficiency and life span of your equipment, and minimises fire risk.
Check valves and pipes on your equipment regularly for leaks or breaks. This increases the efficiency and lifespan of your equipment and minimises the potential for spills. An increase in the volume of oil or coolant your equipment uses may indicate leaks.
Contact your equipment manufacturers, and schedule regular maintenance checks. Record the results. Repair any outstanding faults promptly.
Prevent potential fire when baling or shredding tyres, cardboard, plastics or paper for recycling. Do not overload balers or shredders, or insert materials too quickly. Remove contaminants such as adhesive tape or staples from paper, plastics and cardboard before baling or shredding. This minimises the risk of contaminants becoming caught within your equipment and jamming it, increasing the potential for pollution and fire.
Keep fire extinguishers and alarms near to your equipment. Prevent flammable materials from building up around the equipment, especially underneath it. Enforce smoking bans.
Further information
The Chartered Institution of Wastes Management is a membership association offering training, support and technical advice to the recycling industry.