Discharges to water and sewer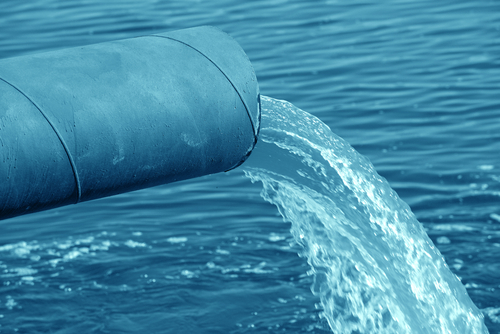 If you pollute water or cause or risk causing environmental damage to water, you are committing an offence.
What you must do
Get authorisation to discharge to surface waters and ground waters
In Northern Ireland, if you discharge anything other than clean, uncontaminated water you must have a:
discharge consent for discharges to surface water
a groundwater authorisation for discharges to groundwater.
These consents and authorisations are issued by the Northern Ireland Environment Agency (NIEA).
You must comply with the conditions of your discharge consent or groundwater authorisation.
In Scotland, if you discharge anything to the water environment you may require an authorisation from SEPA. Some discharges are authorised if you comply with the general binding rules (GBR). In such cases, you do not need to apply for authorisation from SEPA (see below).
General Binding Rules (GBRs) for discharges of run-off water (GBR 10 and 11)
GBR 10 - Discharging water from a surface water drainage system
In Scotland, GBR 10 details the rules relating to discharging water from a surface water drainage system.
GBR 10 has been updated to cover surface water discharge from:
land used for residential purposes (up to 60 hectares).
land used for non-residential premises or yards (excluding industrial estates).
car parks with up to 1,000 spaces.
metalled roads (excluding motorways and A roads).
waterbound roads.
and
constructions sites, where the site, including any constructed access tracks does not:

exceed 4 hectares.
contain a road or track longer than 5km.
include any area more than 1 hectare, or any length of more than 500m on ground with a slope of more than 25°.
If your site exceeds these thresholds then you will require authorisation from SEPA, see SEPA : Construction Site Licence..
GBR 10 specifies that all reasonable steps must be taken to ensure pollution does not occur.
The discharge must not:
contain trade effluent/sewage.
result in discolouration, iridescence, foaming or growth sewage fungus.
destabilise banks or bed of the receiving surface water.
contain run-off from fuel delivery areas, vehicle loading/unloading bays where potentially polluting matter is handled or oil and chemical storage, delivery and handling areas. if constructed on or after 1st April 2007.
All parts of the surface water drainage system must be maintained in good working order and repair and steps must be taken to ensure that matter liable to block or obstruct the drainage system is prevented from entering.
Construction specific rules:
Sites must be drained to a Sustainable Urban Drainage System (SUDS) unless the discharge is from a single dwelling or to coastal waters.
All parts of the construction site which began operations on or after 01 June 2018, on which works are to be undertaken or any vehicles are to be operated or parked on, must be drained by a surface water drainage system with the capacity to accommodate the maximum volume of run-off expected to occur from the land during the period of construction.
If you need to construct a new outfall structure for a discharge:
in Northern Ireland you may need consent from the Rivers Agency, and you should contact your local office for further information
in Scotland your discharge authorisation will cover any construction.
Get permission to discharge to public sewers
You must get permission from your water and sewerage company or authority before you discharge anything to their drainage system. If you are a tenant you may need your landlord's permission to connect to a private surface water drain.
Water UK: Contact your water company
Scotland on Tap: Water and sewerage providers in Scotland
A public foul sewer collects foul water (sewage and trade effluent) only. A surface water sewer collects surface water drainage only. A public combined sewer collects both foul and surface water drainage.
You can discharge:
sewage from domestic facilities, eg toilets, basins and canteens, to a public foul sewer or to a public combined sewer
trade effluent to a public foul sewer or to a public combined sewer
clean uncontaminated water to a separate surface water sewer or to a public combined sewer.
Before you release trade effluent into a public sewer you must have a trade effluent consent or enter into a trade effluent agreement with your water and sewerage company or authority. Once you have ,a consent, you must comply with its conditions.
Trade effluent - discharges to sewers
You do not need permission to discharge sewage from domestic facilities to the nearest public foul sewer or to a public combined sewer. If you have any concerns about your discharges to sewer, contact your water and sewerage company or authority.
If your business is in an area where you can't be connected to a public sewer, you may have a septic tank or package treatment plant. See pollution prevention guideline (PPG) 4 for guidance. However, you should connect to a public sewer if it is possible.
GPP 4 Treatment and disposal of sewage where no foul sewer is available (Adobe PDF – 244KB)
Prevent environmental damage
Water pollution can be classed as environmental damage in some circumstances.
You must prevent and remediate environmental damage that occurs from water pollution caused by your business activities. If anyone else reports environmental damage as a result of your activities, your enforcing authority will have to investigate. For more information see our guidance on environmental damage.
Good practice
Store hazardous materials and chemicals safely
Store any hazardous materials, fuel, oil or chemicals safely and in an area where you can contain spills. This may be a legal requirement. This should be within a secondary containment system (SCS) such as:
an impermeable bunded area
a bunded pallet or spill pallet
a sump pallet
a bunded storage unit
a bunded drum store
a storage cabinet with an integral sump.
Your bund and any bunded pallets should be able to contain at least 110% of the volume of the largest tank or 25% of the total volume you are likely to store, whichever is greater.
For more information see our guidance on chemical storage and oil storage.
Follow the Guidance for Pollution Prevention (GGPs)
Follow the GPPs to avoid causing pollution. This is particularly important if your business is in an area that has vulnerable groundwater.
Guidance for Pollution Prevention
You can find out if you are in an area where groundwater is particularly vulnerable by using the GeoIndex tool on the British Geological Survey (BGS) website.
In Scotland, contact your environmental regulator to find out if you are in an area where groundwater is particularly vulnerable.
Contact your environmental regulator
Label your drainage system
Keep an up-to-date and accurate drainage plan of your site. This will help you and your staff identify the locations of all the drains and sewers and where they lead.
Colour code your drainage system by painting manhole covers, gullies and grills using a recognised colour coding system: blue for surface water drains and red for foul water drains. This will help you to identify which system you are discharging to and also where any spills will end up.
If you store oil or fuel on your site, consider installing oil separators in your surface water drainage system. These will trap oil from contaminated run-off, which you can empty from the separator.
GPP 3 Use and design of oil separators in surface water drainage systems (Adobe PDF – 78.6KB)
Supervise deliveries
Supervise deliveries of materials and fuels to your site.
Clearly label tanks with their contents and storage capacity and provide a method for measuring the amount in the tank. This will reduce the risk of overfilling and spills.
Deal with spills
Keep absorbent materials such as sand and other containment equipment suitable for the type and quantity of fuel, oil and chemicals you store and use on your site. Keep them close to where you might need them, particularly in delivery areas. Make sure that your staff know where they are and how to use them. You can buy spill kits containing appropriate spill equipment for the substances you store.
Report pollution incidents as soon as they happen to the environmental regulators' UK-wide incident hotline on 0800 80 70 60.
Prepare a pollution incident response procedure for dealing with spills. Make sure that your staff are familiar with the procedure and know how to implement it.
GPP 21: Pollution incident response planning
Further information on discharges to water and sewer
SEE ALSO: Preventing water pollution, Trade effluent; managing liquid waste